At PRI, we offer the Industry a new performance standard for off the shelf, portable segmented reflectors. Our segmented products include an innovative latching system that reduces setup and breakdown time, while increasing the strength, durability, and longevity of our products without effecting performance. Segmented reflectors are offered in 3′, 4′, 6′, and 8′, 12′, and 20′ sizes.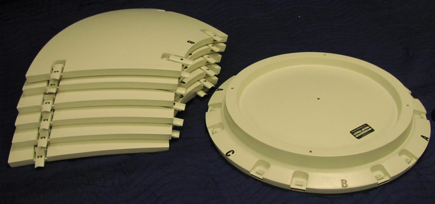 Our segmented reflectors were manufactured with rapid deployment and field applications in mind. They can be efficiently erected at special field sites without the use of tools.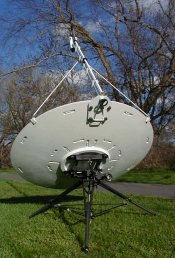 Assembly takes only minutes. Our recessed pin/socket cam-lock system facilitates interconnecting the hub and petal sections, while maintaining overall surface uniformity to 15-25 mils RMS.
Today this product represents the leading edge in high performance, economy, and field application supportability. Specific features include:
Standard diameters of 3′, 4′, 6′, 8′, 12′, and 20′
Lightweight for field portability
Ruggedized construction
Tool free assembly
Interchangeable Petal Segments
Composite Laminates
Honeycomb structural core
High efficiency Reflective Materials
If you would like more information, or would like to discuss your unique application, you will find our team of professional engineers and manufacturing consultants eager to help.