PRI Dichroic Sub-Reflectors
PRI incorporates the latest state of the art technologies to manufacture Frequency Selective Surfaces (FSS) designed to capture signals at specific frequencies while being transparent to others. To manufacture these products, we use our proprietary metal etched surface pattern and characterized dielectric materials.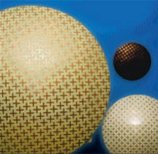 Our Dichroic Sub-Reflectors are one of the products manufactured by PRI that truly set us apart. Considered by many engineers to be one of the toughest engineering challenges, few companies besides PRI manufacture them, and none better than PRI. Many of the industries leading engineers consider this product to the the premier dichroic sub-reflector available anywhere today!
If you would like more information, or would like to discuss your unique application, you will find our team of professional engineers eager to help.